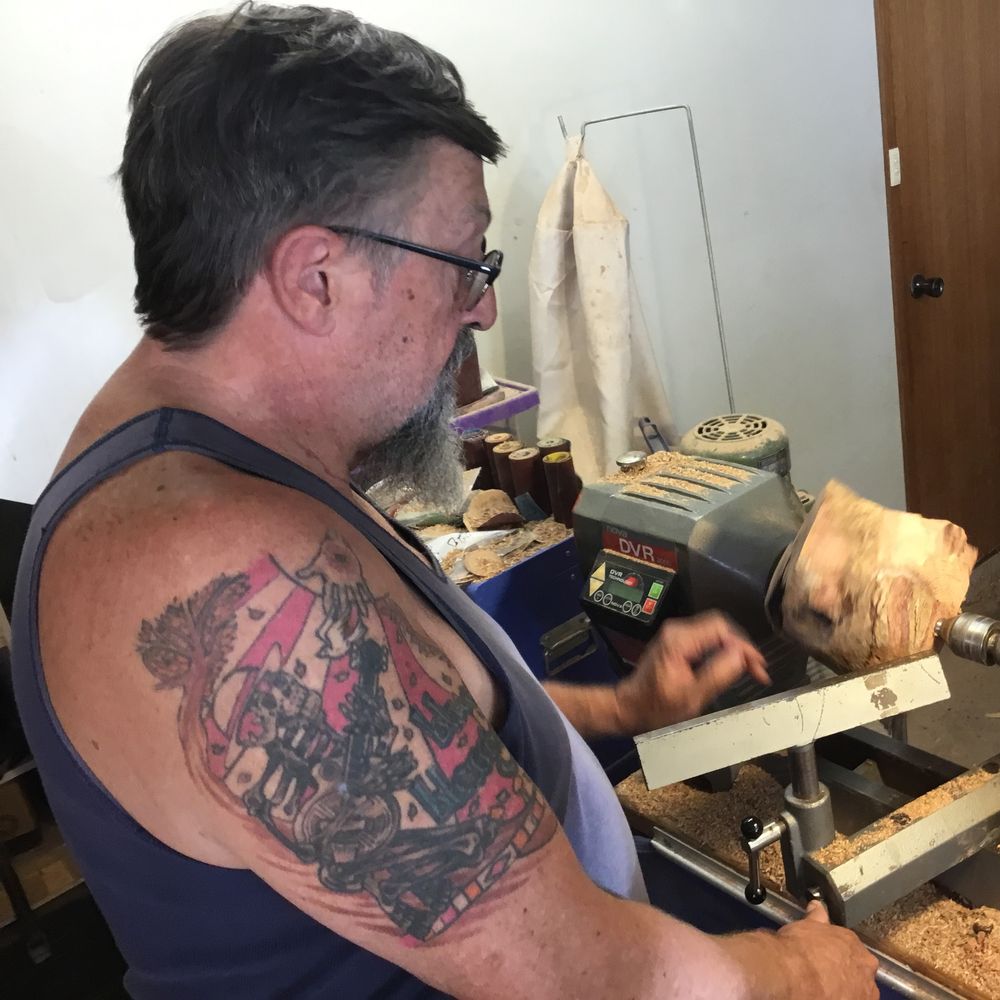 ABOUT THE PREACHER'S FUNC-ART
When asked why he took up woodturning, Steve replied:
"It's cheaper and more reliable than a psychiatrist.  As someone who has wrestled with depression and anxiety it takes me to a space that is both calming and exhilarating.
I fell in love with the primal tactility of the timber and its individual uniqueness.  There is a meditative quality to this ancient art that I find healing.  The design of each piece I make emerges from the wood itself.  It's not until I start roughing it on my lathe that I get a focused sense of design.  Although I start with an idea, there is always a pivotal "aha" moment in the process. 
In terms of my design interests I am attracted to the Danish Modern movement, with its Bauhaus influences, minimalist sensibilities, and functional purpose.  I try to create clean, pure lines, with careful consideration of the raw materials, proportion, and an aesthetic that honors function and form.
Something that annoyed me about traditional grinders was the banality and predictability of their shape.  An onion-like top on a lazily shaped cylinder with a couple of kitschy decorative flourishes – and that ubiquitous silver knob on the top.  Add to this poor quality grinding mechanisms that would either corrode or break.  I've sworn never to make one! 
I exclusively use Danish CrushGrind mechanisms in my grinders and mills.  Guaranteed unconditionally for 25 years they have a ceramic mechanism (no corrosion) with 14 settings, accessed from the bottom of the mill.  As the entire mechanism is internal there is no knob on the top, allowing for much greater freedom in design and easier filling.  You simply pull the top part of the mill off the shaft.
The timbers I use are reclaimed from fallen or recycled timber. Native timbers include banksia, red ironbark, silky oak, Australian red cedar, white beech, red mahogany, bunya pine, hoop pine, blackwood, huon pine, sassafras, silky oak, tea tree varieties, red gum, river and swamp oaks, bottlebrush, black bean, and many others.  Various exotic species were planted with European settlement and have their own particular beauty.  These include camphor laurel, mango, jacaranda, London plane (lacewood), rock maple, olive, and macadamia
Carefully dried and seasoned, when shaped all pieces are hand sanded to 600 grit and finished with up to 12 coats of shellac and then buffed with my own recipe of natural local bee's wax and organic lemon oil.  Each piece is then sealed with a clear finish to protect from fingerprints, oil, and other kitchen hazards.  Cleaning is simple, just wipe down with a mild detergent cloth and dry.
I have a limited number of finished items on hand or you can order a custom piece, choosing your own timber preferences (subject to availability), design and size.  Explore this menu to see designs, timbers, etc.  If you have a particular timber or design in mind I will try and accommodate you